So now I had the card ratios determined, I really wanted to add some flesh to the bones of my game. To really get a feel for the theme and feel, I decided to work on a second prototype.
This required a bit of research on the available tools that were fit for the job. I came across a few options, each with their pros and cons. My criteria was something that was easy to use and allowed me to get stuck into without having to trawl through piles of tutorials and guides to get my head round it. I've always found myself more of an activist when it comes to design, I'd much prefer to jump straight in and get my hands dirty than spend days researching!
Magic The Gathering Set Editor
There were a number of tools available to me, a few I considered were InDesign and nanDeck but I wanted something a bit more streamline with a straight forward UI.
After some browsing on forums I found a recommendation for using the Magic The Gathering Set Editor. I was a little dubious at first but after some playing around with the features, I found it perfect for my prototyping needs. Those familiar with MTG will know that there are elements to the cards such as the mana cost, type line, text box and card border. These were perfect as it meant I could assign elements such as symptom number, colour type, description and image.
I began creating my cards and categorising them in the respective colour types. As this was only a second prototype, I decided to use a combination of imagery sourced from Google images and icons from Flaticon.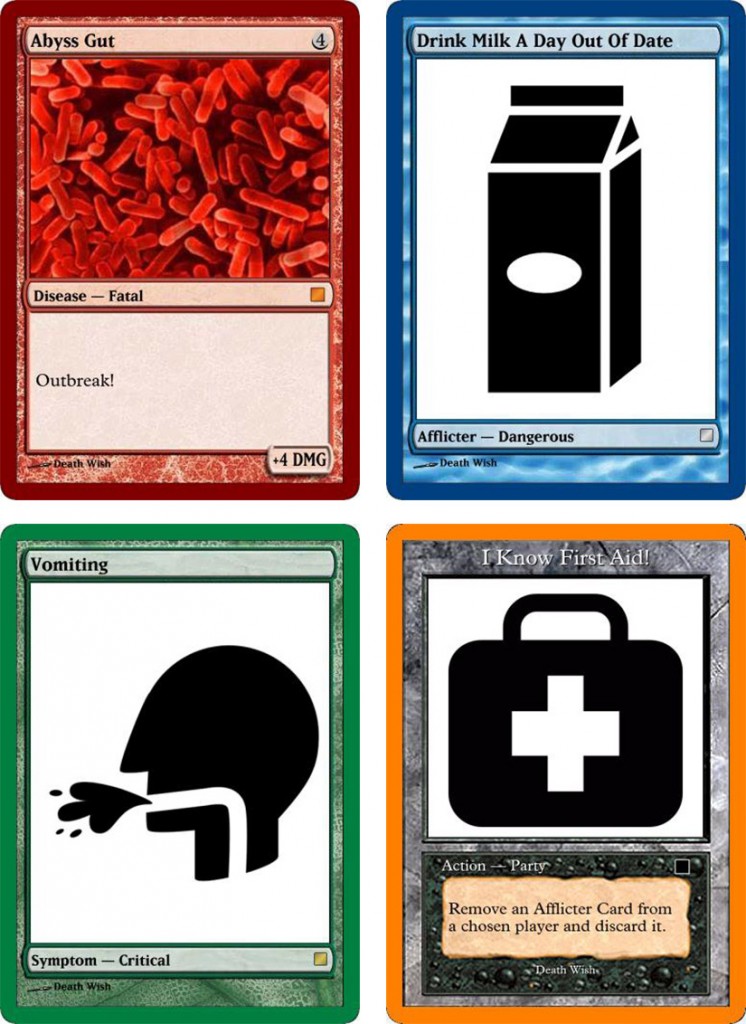 Printing
Once I had all of my cards created (with a few duplicates to build up the numbers) I was content with printing them out. For this, I used my home printer on standard A4 sheets of paper and a guillotine. I kept all of the cards neatly tucked in a deck holder and carried it it around with me at all times in case any play testing opportunity may present itself (or was imposed!).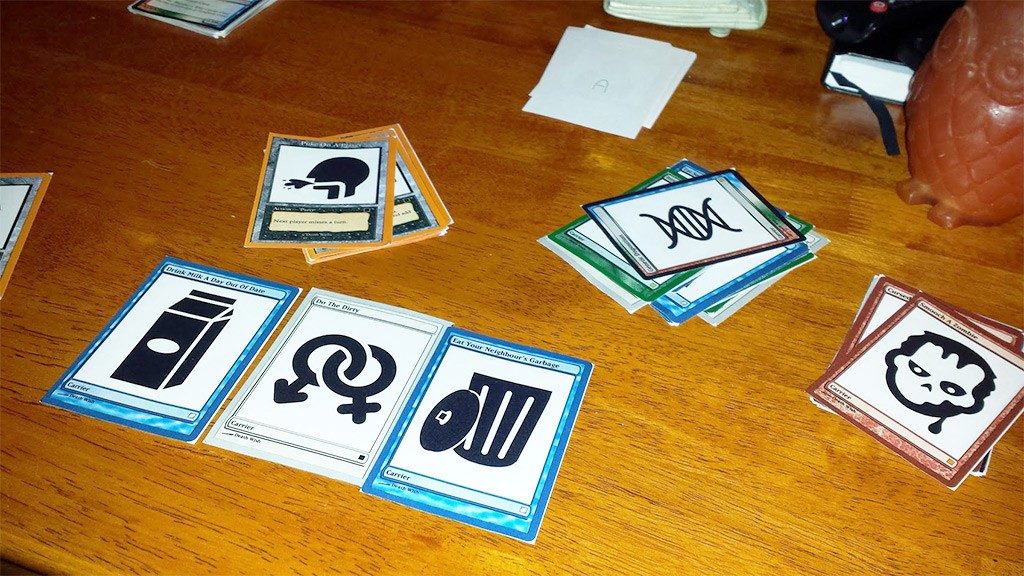 Play testing the second prototype
This is the first prototype that I thoroughly play tested with friends and family so it received quite a bit of ware and tear and pencilled amendments. My first play test proved very positive and I felt comfortable with the direction it was taking. I decided to try out different approaches such as altering the levels of cards and the available outbreaks so I could witness every outcome. I also experimented with 3-6 players to see how well this would play. I was very lucky to have a good number of friends/victims who would dedicate the time to play the game.
The biggest thing I have learned from play testing this version is that focussing on the "party" aspect is key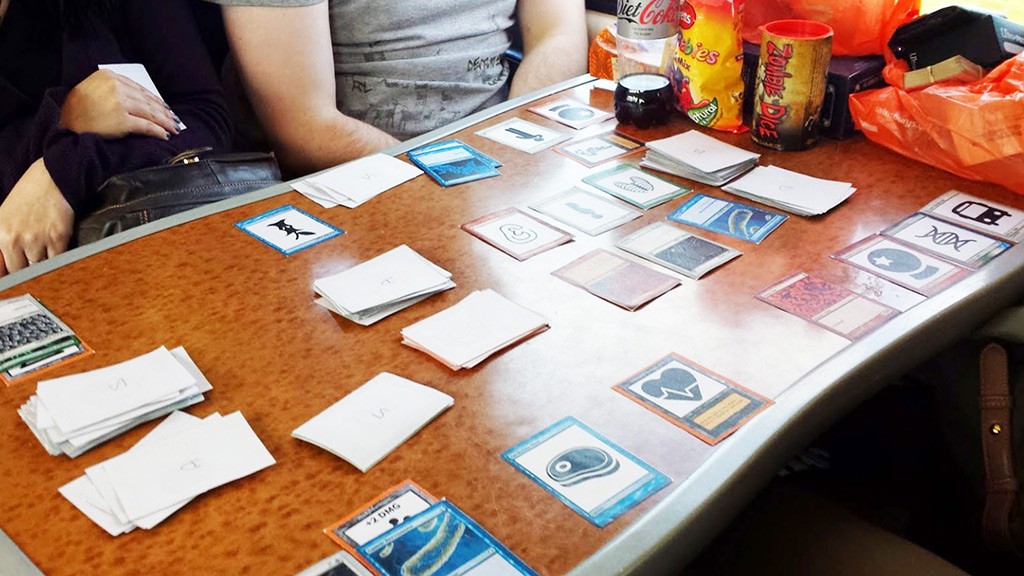 I received great feedback which has been fantastic and I made sure to note down the play time and every piece of feedback given in my book. When play testing, you need to be prepared to take on board everything, both the good and the bad. In addition to the feedback, it has also provided some great ideas for new cards that have been added to the game.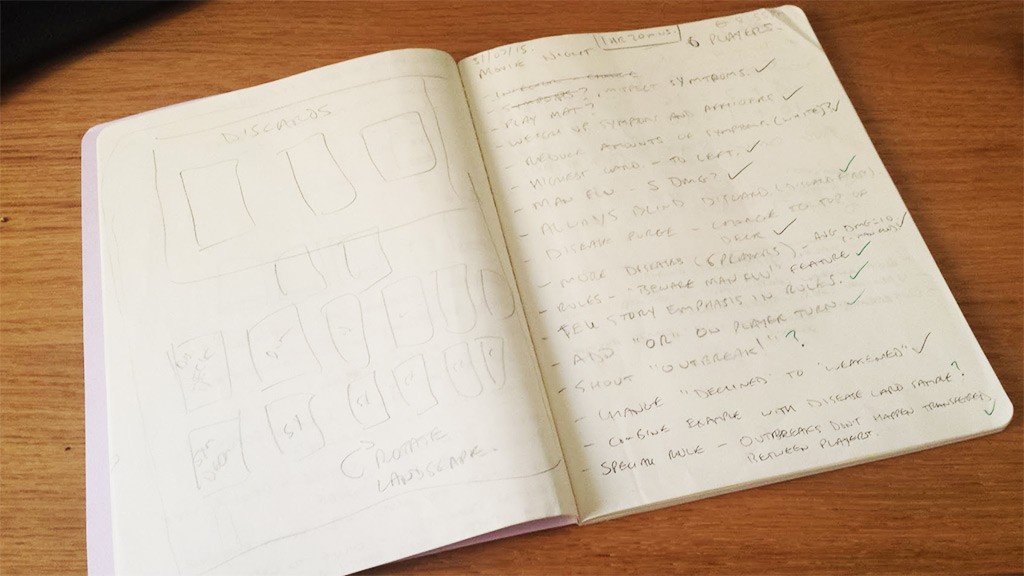 The biggest thing I have learned from play testing this version is that focussing on the "party" aspect is key, interaction between players and reading out the diagnosis is very important. It has also given me a good indication of the average playing time (30 minutes) and helped drill down my target audience.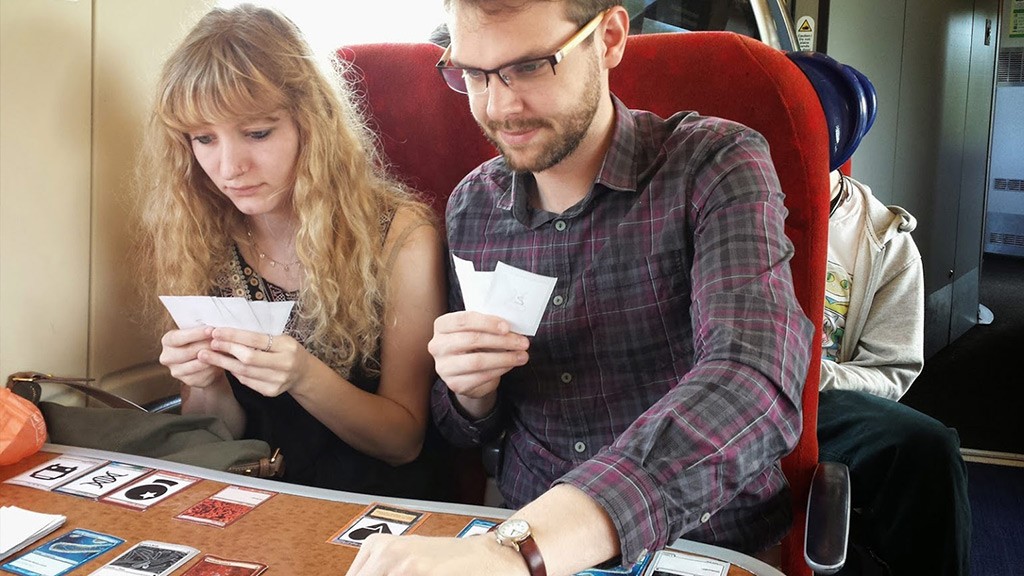 After amending and playing this for between 15-20 times with various friend and family groups, I found that the feedback was becoming few and far between which I felt was a positive sign. I also found myself running through, what felt like, a thousand versions of my rules. I have learned that it's one thing knowing your game and another explaining it in the easiest way possible. Creating diagrams of how to play has proven very useful in the process.
I was itching to get working on a new prototype and put into practice my new ideas and everything I have learnt over the last few months. I was also keen to get the general public playing the game and this meant producing something that was closer to a final version.